This well sized nookie bag is made from super soft fleece with padding on the inside. A perfect option for pets who enjoy burrowing.  A secure, cozy sleeping option. Made from fully washable material for easy cleaning and care. Available in a variety of sizes.
Dimensions:
Small       58cm x 48cm
Medium  75cm x 65cm
Large       90cm x 70cm
IMPORTANT: Please keep the size of your pet in mind when selecting a product. Make sure that it will be suitable for your pet. If in doubt as to which size is best for your pet or if you have any questions please feel free to give us a call or email. We are always available to help you in any way we can.
EDITOR'S HONEST OPINION – BY Paul
The all purpose nookie bag is hugely underrated. The size makes it a sleeping bag for dogs, but you could probably use it as a leg warmer too. You can have any colour you want as long as it's grey, and this might be a little disappointing, but at least it's a nice grey. This travel friendly design folds quite easily and makes a travel dog bed a reality. I wouldn't have thought of a travel bed until seeing this, and it works really well.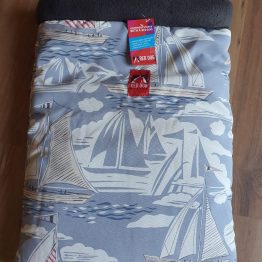 Overall Rating:
I give it 4.5 simply because we want more colours, but it easily deserves the 5 star rating. (Unless you order in summer and get the gorgeous summer style!)
Durability:
We love having a foldable, washable stylish travel bed, that takes no space, and offers a bit of home comfort wherever we might go. So it scores on the durability scorecard.
Price:
For the quality, I really feel its a far superior quality product compared to other sleeping bag style beds.