The right harness means happy mom and hound!
Barry and Alfie went on adventure to Cape St Francis with owners Jess and Leroy. Their getaways normally involve lots of exercise in the form of cycling and long beach walks, partially to keep Barry happy and sane, and partially because who doesn't want to relax in fresh unpolluted air and beautiful surroundings.
The Heavyweight Hunk
Barry as Kelpie x is often mistaken for a Staffie or Staffie x, he is a bundle of muscle in a really powerful compact frame, and his determination matches his strength. Walking him on a lead and collar could be really unpleasant for both him and Jess. He would end up choking himself and coughing constantly and Jess's arm would feel like it had stretched a good few inches. It is important to know that Barry is exceptionally well trained and well behaved, he is beautifully socialized and for many years was an only child who went everywhere with Jess. His behaviour on lead is purely as a result of his excitement to get out there and experience the world, places to go and people to see!
Testing the Support Body Harness
Jess's honest opinion
"Barry presents a bit of a conundrum in terms of exercise wear – he is a smallish dog who pulls like a biggish dog, for one, so in a conventional harness he is very comfortable but his handler ends up getting tugged around rather a lot. Another recent complication arose when he began to suffer from back pain as a result of compensation for his cruciate ligament tear. Walking him on a lead became simultaneously necessary (to keep him quiet) and difficult (pulling me along the beach not anyone's definition of quiet). As a result, we gave up on harnesses and tried training him using one of those combination collars with a small chain. This worked pretty well, but still resulted in near self-asphyxiation if the distant sound of monkeys was heard. Silly Barry. Enter RDD's support harness – not only does it provide choke-free, gentle but firm control with no pulling (yay for me), but it also gives his back the added support it needs and looks really cool and sporty on him, matching his physio tape perfectly to give him a look sure to turn heads. Not that Barry needs any help in that department!" Jess Payne
Editor's Product Assessment
If you are going to buy one harness for your dog, then this should be THE harness that you consider. The pricing is well on point for the quality, durability and benefits experienced with this harness. I love this harness, the shape of the panels combined with the durable outer canvas and the sports mesh lining, allows the harness to retain its shape and spreads any form of pressure or pull, easing impact on the neck. This is ideal for dogs or breeds with known spinal and / or cervical issues, think of the Dachsie, Great Danes, Schnauzers. It is also quite literally a life saver with Brachycephalic breeds.
Brachycephalic breed benefits
The flat faces of the brachycephalic breeds are familiar to all of us, anything which applies pressure to the throat makes already restricted airflow even more difficult. They are also prone to overheating, and need to be protected from overheating in hot weather or during exercise. Read PetMD's recommendations here
Special design
The yoke / chest piece is anatomically designed to prevent pressure or rubbing on the sensitive skin of the inner leg and elbow. The shape of the chest piece also distributes any pressure over the entire chest and sternum, reducing any pressure directly against the neck.
The spinal pad, is anatomically shaped to wrap around the dog's back, cupping over the dog's body, with no pressure points. It also incorporates a strip of reflective tape down each side of the panel, aiding visibility.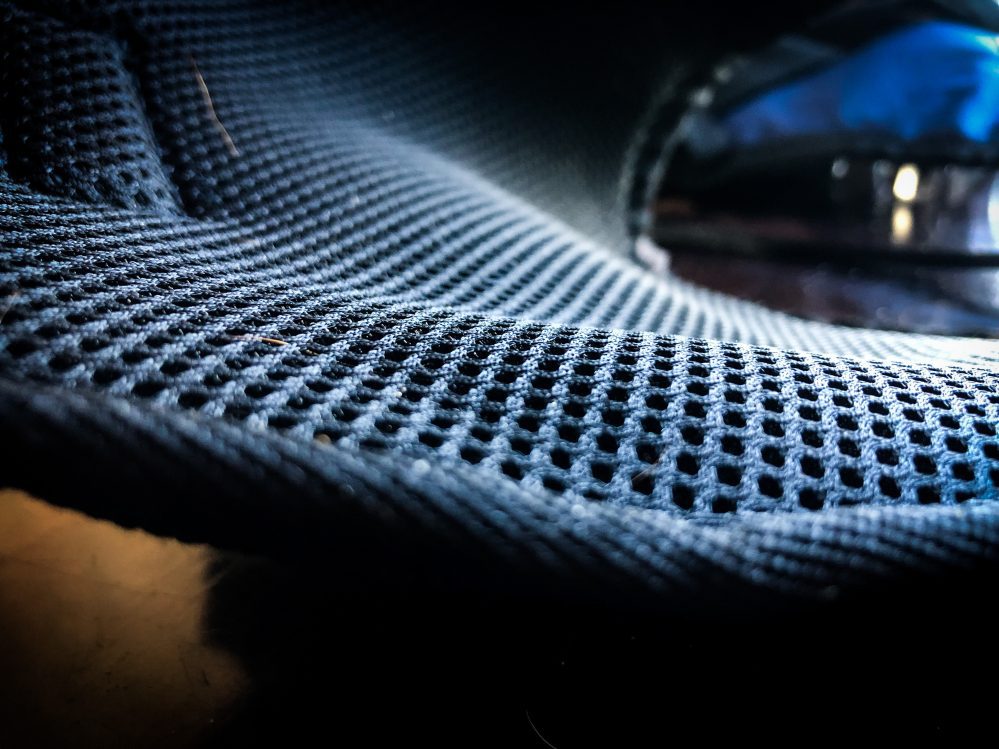 The special sport's mesh lining, helps prevent overheating and contributes to moisture control. The specially shaped panels, retain their shape, allowing airflow as the dog moves. The straps are kept slightly wider, spreading any pressure over a wider area of the body, and are equipped with quick release clips for easy use. Machine washable and tumble dry friendly.
The harness also includes and easy grab handle, positioned slightly in front of the lead ring.
The only negative that we can add, is that with all Barry's digging on the beach, the fine sand did work its way into the sports mesh. We did need to give the harness a good shake out to get rid of it, a wash would work just as well.